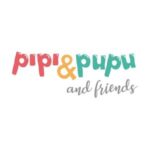 The Garden of ``PIPI & PUPU and friends``
A world of imagination for early childhood.
We choose toys, clothing, shoes, accessories, baby products, bedding, bedroom furniture, and eating and drinking products for early childhood that are quality, with care, environmentally sustainable, and above all, child-friendly.
We believe in a more sustainable future.
We sell clothing brands with European production and especially natural and certified fabrics such as certified organic cotton and bamboo, OEKO-TEX fabrics, pima cotton and also Italian fabrics. Wooden toys are FSC-certified as are toys made from recycled cardboard and FSC-certified paper, toys made from natural rubber, bio-plastic, or products made such as backpacks from fibers made from plastic bottles. For baby care, we have selected company with EU manufacturing with natural ingredients and B-Corp certified (the purpose of which is to prepare a measurement of companies' environmental and social performance, in the same way that companies' economic performance is measured).
"We wanted to do something different this year for Black Friday. We have been promoting Green Friday for a few years now – against mindless mass consumption. We wanted to push the sale of our eco-friendly products by offering a discount for the week we call 'Green Week' by donating a percentage of sales to plant trees in Italy."