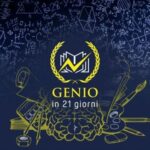 The Garden of ``Genius in 21 Days``
Did you receive a code from Genie in 21 Days?
Enter it here, assign a name, and redeem your olive tree!
Genius Net is a network of companies and coordinates the work of the companies spreading the Genius in 21 Days method in the 29 locations in Italy and 15 abroad, which have chosen to adopt the "Genius in 21 Days" effective learning method, thanks to which nearly 550 courses are delivered annually.
The mission of the entire Staff is to make people fall in love with the firm by enabling them to achieve the results they aspire to in the field of learning and acquiring new knowledge, including in the world of work, by first explaining to them that it is never too late to improve one's performance when one has the tools that best suit each individual person, his or her characteristics, the goals he or she has set and, above all, his or her personal learning style.
The "Genius in 21 Days" method has helped 42,000 students solve these kinds of problems, and has also successfully landed in Switzerland, Spain, England and the United States.
A team of 146 personal preparers recognized by the People's University of Milan with the competency certification of "expert in strategic learning," an Ethics Committee that will oversee the standards of service and resolving any complaints from the trainees, and a new Scientific Coordinator who will lead studies and research are part of the organization.
"Genius in 21 Days presents an all-green and Salento initiative!
We will be planting dozens of olive trees in the Salento area in the coming months for charitable purposes and with the goal of repopulating this beautiful land with healthy green olive trees. Each tree will be planted through the contribution of our students, who have espoused the cause by donating a voluntary offering to it."